Post by samt on Dec 12, 2015 22:06:52 GMT
Three pieces of fiction so alike in concept yet so different in execution and construction. (left to right from written vomit to knowledgeable dark humor)
Why I am writing this
The reasoning is rather simple. After GRArkada made a discussion video on the anime Fate UBW. (https://youtu.be/RbBTosZC5Jw), I decided to make an article exploring how a writer can drastically affect a good concept.
A summary of the concepts uniting them all
The Fate Series and Drifters are similar in concept as the main plot line is that heroes from throughout history have been summoned to a far distant space or time to duke it out for the mcguffin. In the Fate Series it is the Holy Grail that will grant a person's wish. In Drifters it is control of the world and its future. In both series, many of these heroes have personalities that interfere with their ability to seize their goal and thus are all perilously close to tragedy at any given time. This adds tension as you wonder whether these heroes will be able to overcome their flaws and succeed for become another disposable Dixie cup for the powers that govern the world. Overall I think the concept is brilliant and just needs to be executed well in order to succeed.
Overdramatic nonsense to a "pure hearted" character


Methods of Exposition
This right here is where Fate UBW fails miserably, Fate/Zero does alright, and Drifters is phenomenal. The main issue is that Fate UBW relies completely on character development and exposition from monologue and dialogue, two very valuable tools for a writer to use certainly as you are simply using language a device to convey information to convey lore and details directly to a reader. However herein lies the problem its ordinary and uninteresting, more so when you lean on a method of expositing information too much you run the risk of boring your reader and getting yourself lost in your work as you write it. This is one of the reasons why many writing classes teach you to use it as a last resort, so that you explore other options to convey information before using the easiest method that is also the most boring. This is what separates good written fiction to a police report.
Two use the other two series in this context, Fate/Zero does passable in this regard as they do use some visual exposition effectively paired with their verbal exposition to make action and intrigue scenes while keeping the viewer or reader in the loop. Its about 50-50 really with some major problems in some scenes (see walking in circles.) Drifters however is phenomenal in this regard due to it relying on an author's extensive knowledge of certain historical figures (mainly Japan because Japanese). The series blends these together to make funny scenes to establish character roles in the story and information on who they are and why should you care. Seriously there was a scene showing a senile and forgetful Hannibal arguing with an elderly and smug Scipio Africanus about how Scipio plagiarized Hannibal's Cannae campaign with Zama, to establish that they are to play the roles of both jesters and tacticians in the story and it's just as awesome as it sounds.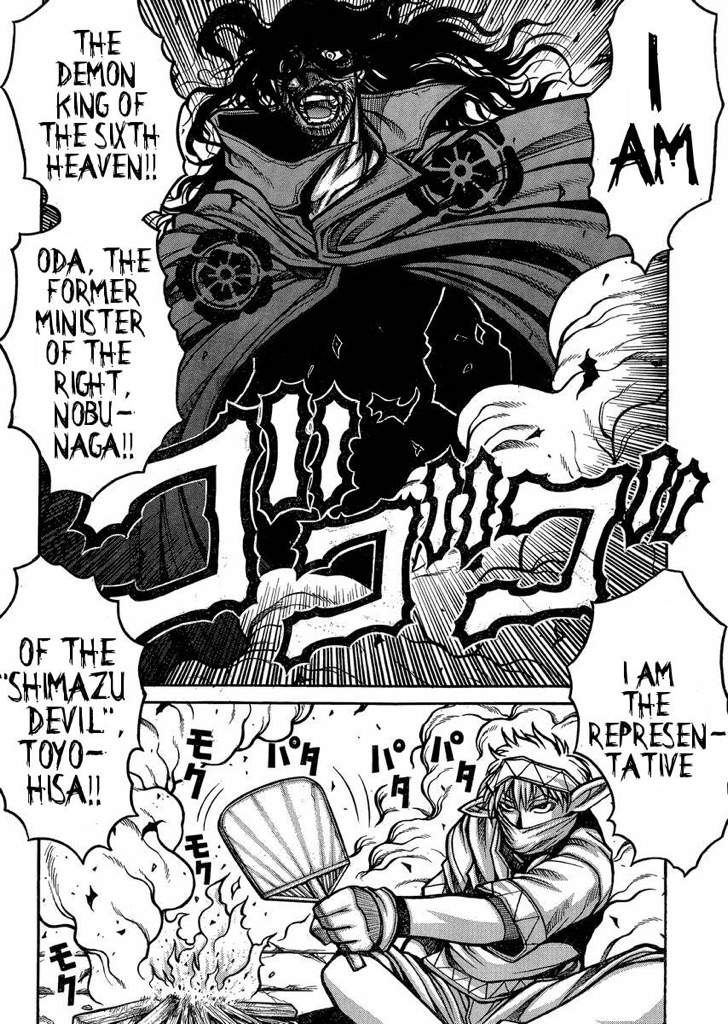 Sorry their so large but it was hard to find images I liked that were also small



Characters
Another big failing of Fate UBW was the lack of understanding in the idea of the tragic hero and how said tragic hero should interact with other characters and the plot. You see a tragic hero first of all needs to be someone you can look up to. Fate UBW has Archer which is not a good tragic hero since you never will root for him because he is an unlikable asshole that does random dick bag moves to other peoples so he can have a direct ideological conflict with our blank slate hero. What he comes off as, is a schoolyard bully and no one not even the bully wants to be thought of as just that since it is petty and small rather than a grand ambition to look up to. To add to this is the non expression in most his tragedy and how it is glossed over. A key moment in a tragic hero is the moment he realizes he has failed and how badly he has done so. In Fate UBW, Archer at the end does not realize this truly and continues to go about doing the same thing over and over just in a more cynical life, tragic maybe but not a tragic hero which is sad since that was the author's intention.
Fate/Zero does have tragic heroes thankfully but the interaction between them feels stilted mainly due to the dialogue, poor construction, and exposition breaking up the pacing of the show. The two characters I would like to go over is Alexander the Great or Iskandar in the show and novel, as well as Kiritsugu. Iskandar is your typical brash warrior scholar who has a few key insights despite not being the most intelligent. He was known to be undefeated and a great conqueror, one that pushed his men to their utmost limits, all the while suffering with them and earning their loyalty to a large extent. He inspires many to become more than they are yet, he can not inspire himself to take a great action of bravery. Bending the knee to someone greater, if he did this he would gain all that he desired in an instant but he would not because he by his nature must challenge such great powers and win to justify his existence. Overall a well written idea that was executed excellently when he makes a final charge at a demigod. Iskandar works so well as a tragic hero since he is both brave and honest making him inspirational while having an understandable level of pride as a flaw making him all the more tragic. Kiritsugu is another brilliantly made character although they messed up a bit near the end, he is a slayer of wizards despite having few magical abilities himself. He is smart, determined, with a clear sense of what is right reserved only for zealots. He is ever the underdog as most mages are above mere bullets and have supernatural abilities and resources much beyond his own. There's a lot to root for in this character. His flaw is he is utterly ruthless, so much so people wonder if it is better to have an imperfect world than one dictated by him. In that last scene that was meant to be his moment of realization, the author screwed up as he focused on one aspect of his flaw and not the others. He focused on the idea that Kiritsugu will kill those in his way but not that he will suppress foreign ideas. This made him look like a axe crazy murderer when it would have been much better to put him in the light of Woodrow Wilson, Hitler, Qin Shi Huangdi ,Lenin, Stalin, and Chairman Mao. It could have been a horrifyingly controlling government based on sacrifices for a brighter and maybe impossible future. Instead they copped out and gave him, your a killer, yeah pretty sure he knew that already when he is advertised as an assassin. Overall, he's not a bad character just one that stumbled on the final steps of character development.
Drifters does really well in regard to characters. Historical characters are used and well, most of their history is rather tragic in setup. Such as Oda Nobunaga hearing what happened to his nation after he died and how all his work over the decades was for nothing. There is some pretty sad set up. But for the most part these characters move on ahead, not wallowing in despair of the revelation that occurred. All thanks to belief in each other and belief in their leader Toyohisa Shimazu that just does not understand the idea of tragedy as he himself thinks that the greatest honor one could gain is a glorious death (seriously his response to finding out about the annihilation of his clan was a shrug and Oh well). These heroes work well together as you get funny combinations like a senile Hannibal complaining to Nobunaga that more raspberries must be found or Carthage is doomed while also explaining a brilliant plan on how to assault the castle they are facing. Overall there is tragedy but the leader of the group keeps them from ever becoming tragic heroes in truth leading to a tension on whether or not the main character will survive the next fight to keep leading them as he has a deathwish. The antagonists are another story as they have been broken by their tragedy to the point they will take anything to give purpose to their now purposeless life. To that end they follow a Messianic figure to destroy the world and create it anew like a parade of sad broken toys. They are what the protagonists could be and still might be as the leader that ties them all together is always in a perilous position in battle.

Conclusion
My conclusion after all this is that a writer does affect a good concept heavily as the execution and characters or the meat on the skeleton of that concept is just as important as the concept itself. So when there is a piece of fiction you don't like, look at the things you do enjoy and the classic stories they are based on. You might find that the problems are for more than just mere poor pacing.